HGIS book featured on Nature's Past podcast
Originally posted to Nature's Past 26 Jan 2015
Episode 46: Historical GIS Research in Canada, 26 January 2015 [38:27]
Download Audio
In recent years, environmental historians and other historians have been working with maps in new ways. Specifically, they have been using HGIS software, that is, historical geographic information systems. You may have heard a bit about this already.
HGIS has allowed historians to take historical data and visualize and analyze it spatially. This allows one to present evidence in new ways, but perhaps more significantly, it provides researchers with novel approaches to the analysis of historical data. We can see things in the data with HGIS that we couldn't see before.
HGIS research has taken off in the field of environmental history. More researchers have been using HGIS as part of what some have called a "spatial turn" in scholarship. Census data, municipal assessment rolls, and aerial photographs, just to take a few examples, can be analyzed and presented in new ways spatially with HGIS software.
Getting started with HGIS can be intimidating and it often requires collaboration among historians, geographers, librarians, and other scholars. To help researchers in the field of environmental history get acquainted with the uses of this technology, the University of Calgary Press and the Network in Canadian History and Environment have published a new book called, Historical GIS Research in Canada. You can read our review of the the book here.
On this episode of the podcast, we speak with the editors of this new book, Jennifer Bonnell and Marcel Fortin as well as a couple of the contributors.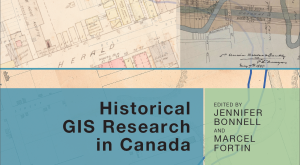 Please be sure to take a moment to review this podcast on our iTunes page.
Visit the main page at http://niche-canada.org/naturespast and subscribe to our YouTube page here.

Guests:
Jennifer Bonnell
Marcel Fortin
John Lutz
Josh MacFadyen
Works Cited:
Music Credits:
Citation:
Kheraj, Sean. "Episode 46: Historical GIS Research in Canada" Nature's Past: Canadian Environmental History Podcast. 26 January 2015.